There are many ways for you to help us stop gun violence history from repeating itself in America.

Email your Senator demanding support for Universal Background Checks

Share the campaign

Help us to make these books available to schools across America
Every day a new page of gun violence history is written. And it's not stopping.

The Illinois Council Against Handgun Violence — an organization committed to fighting the gun violence issue on a state and federal level — created The Gun Violence History Book. Made out of articles, facts, and data showcasing a tragic and deadly history that repeats itself.

This book has done what history has been unable to do. Stop a bullet.

The book features 19 milestones to help you better understand gun violence, and how common-sense gun regulations, such as universal background checks, will help it.

But more than it being a sad uncovering of our past, this book acts as a lesson for the future – for Americans young and old who still believe there is a way for us to close the book on America's gun violence history.
The most dangerous gap in federal firearms laws today is the background check loophole. Although federal law requires licensed firearm dealers to perform background checks on prospective purchasers, it does not require unlicensed sellers to do so.

A 2017 study estimated that 22% of U.S. gun owners acquired their most recent firearm without a background check. This means that people looking to commit violence can easily obtain guns, which often ends with deadly consequences.

In Illinois, gun buyers need a state permit to acquire a firearm. But if you live in Chicago, you can drive 20 minutes to Indiana and buy a gun without any background checks. And similar evasive tactics occur all across the country.

In other words, when it comes to gun sales, any loophole means a 100% loophole.

Universal background checks will help to close this loophole. And it's the first step in stopping our tragic history from repeating itself.
As well as being an ironic symbol, this book will be used as an educational tool for high schoolers.

For teachers, this book can be an important educational tool for high school students.

The book summarizes the root causes of gun violence and explores how it has exploded across the country, examines its financial and social impact, and discusses the importance of universal background checks.

Stop history from repeating itself by educating the future.
Request the book if you're interested in a gun violence history class at your school.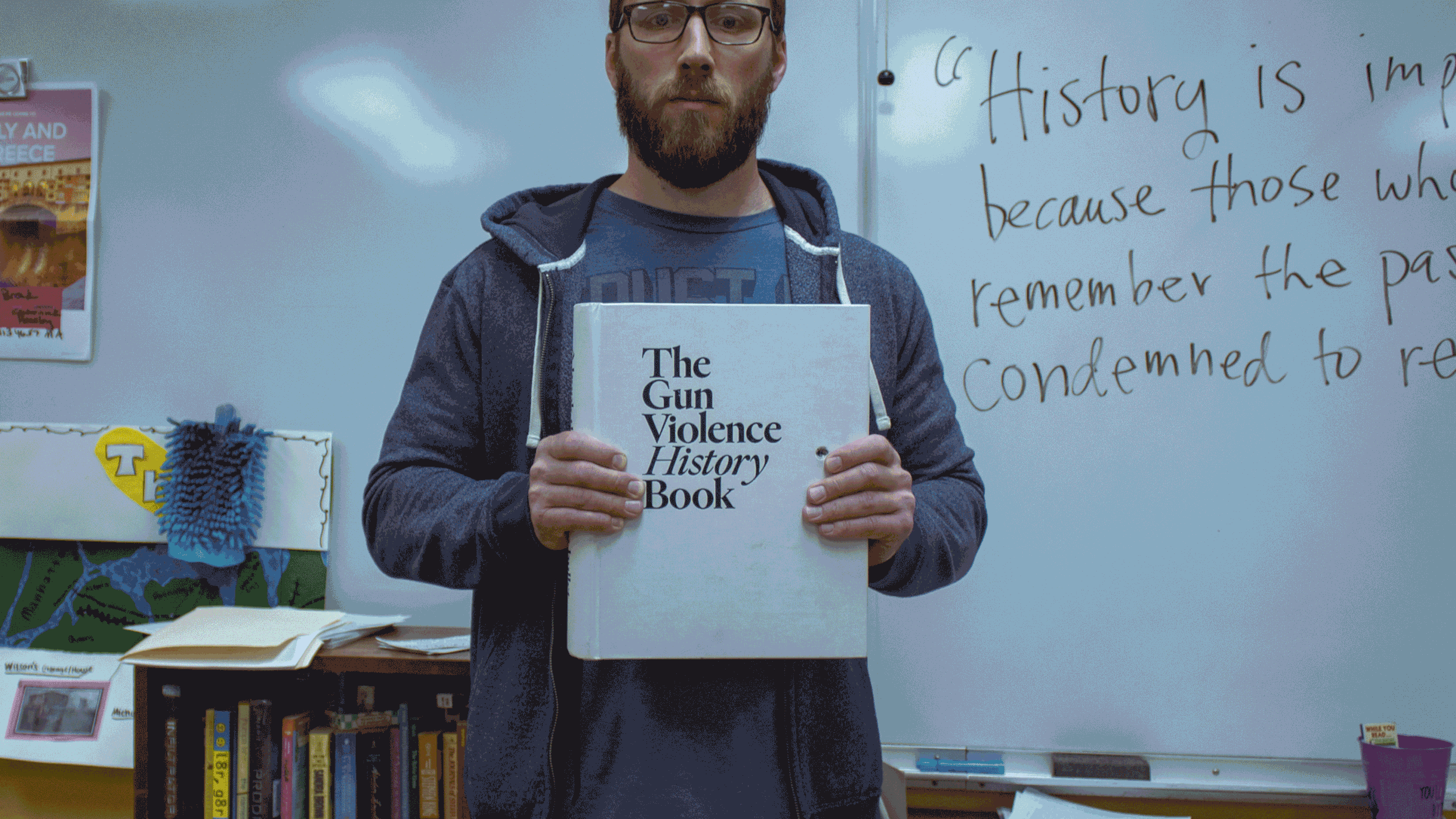 The Illinois Council Against Handgun Violence (ICHV) is the oldest and largest statewide organization in the U.S. working to prevent the devastation caused by firearms. Founded in 1975 by four suburban Chicago women concerned about the tragic consequences of handgun proliferation and availability, ICHV works on a variety of fronts to educate, raise public awareness, and build coalitions to enact change in laws and behavior. For 40 years, ICHV has been a leader among state gun violence prevention groups.